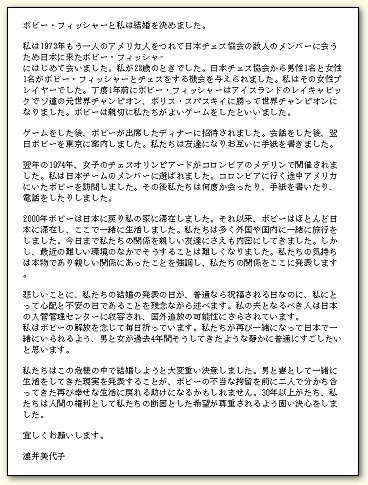 Bobby Fischer and I have decided to marry

first met Bobby Fischer in 1973 when he visited Japan, accompanied by another American man, to meet several members of the Japan Chess Association. I was 28 at the time. One male member and one female member from our Japan Chess Association were offered the chance to play Bobby Fischer. I was the female player. Just one year before, Bobby had become the Chess World Champion after defeating former World Champion Boris Spassky of the Soviet Union, in Reykjavik, Iceland. Bobby was gracious and said we played well.

Soon after playing Bobby, I was invited to attend a dinner at which Bobby was present. We spoke and the next day I gave Bobby a tour of Tokyo. We became friends and we stayed in touch by writing to each other.

In the next year, 1974, the Women's Chess Olympiad was held in Medellin, Columbia, and I was selected to be a member of the Japan team. On the way to Columbia, I visited Bobby in America. Over the years since, we have seen each other many times and have always kept in close touch by writing to each other and by talking by telephone.

In 2000, Bobby returned to Japan and stayed with me at my home. Since then, Bobby has spent most of his time in Japan and we have lived together here. We have also traveled together extensively inside and outside Japan. Until today, we managed to keep our relationship entirely private, even from our closest friends. However, under the current difficult circumstances, this is no longer possible. I am therefore releasing this statement about the background of our relationship in order to stress that our feelings are genuine and are based on our years of close companionship.

Sadly, I regret say that this day of the announcement of our impending marriage ? a day that would normally be one of celebration ? is for me is just another day of worry and anxiety. My husband-to-be is being held by Japanese Immigration and faces possible deportation. I am praying every day for Bobby's release, so that we can be reunited and be allowed to continue our life together here in Japan, quietly and normally as man and woman as we have been for the past four years.

We have taken the very serious decision to marry in the midst of this crisis in the hope that disclosing the reality that we have been living together as man and wife might help the two of us to return to that happy life we had been sharing before Bobby's unwarranted detention. After more than 30 years, we have made a very serious decision that we firmly hope will be respected as the right of every man and woman.